Windo's vision is to make it simple to understand a company's positive impact on the planet and its people, with a mission to connect employers with young talent that share their values.
EUROUT's vision is a future where LGBTQ+ individuals are proportionally and authentically represented in the business world, with a mission to connect LGBTQ+ graduate business students, professionals, and organisations through their annual flagship conference & beyond.
Together, we celebrate organisations that are globally recognised for their LGBTQ+ Diversity, Equity & Inclusion (DEI) Transparency.
EUROUT Sponsors that are leading the way with LGBTQ+ Overall Workforce Representation Reporting
Over the last 5 years the number of companies reporting on the size of their LGBTQ+ workforce has increased ten-fold. Employers are increasingly recognising that outside of engaging investors, increased transparency in workforce representation across all diverse groups can help with talent attraction and retention, particularly with younger audiences.
In fact, multiple research papers reveal that more than 50% of Gen Z talent look at Sustainability Reports when researching a job and a study by Bain & Company published in June 2023 found that 30% of Generation Z would reject a brand because of the company's inability to share its DEI track record. Another study by McKinsey in 2020 revealed that inclusion matters to job seekers, both LGBTQ+ and non-LGBTQ+: nearly 40% of all survey respondents said they had rejected a job offer or decided not to pursue a position because they felt that the hiring company was not inclusive.
Sharing the % of the overall workforce that identify as LGBTQ+ was started by a handful of pioneers in 2017 led largely by Financial Services, Law and Consulting firms.
Here we highlight three Consulting firms who are also sponsors of EUROUT and who have been leading the way reporting on their LGBTQ+ workforce representation since 2019; Bain & Company, BCG and McKinsey & Company.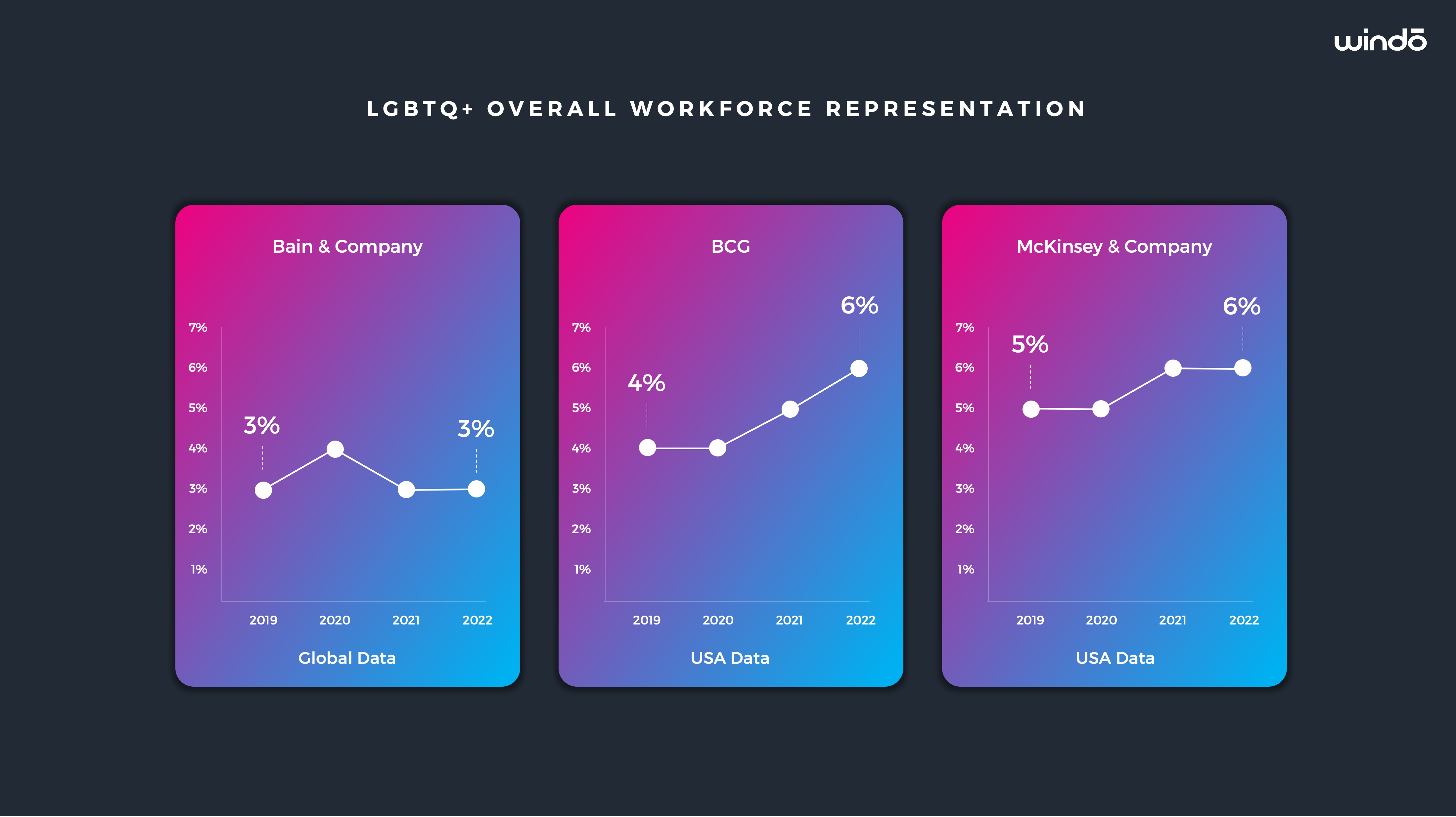 Note: Representation data is based on Self-ID programs. Companies phrase questions for Sexual Orientation and Gender Identity differently. Employee participation rates in Self-ID programs also differ among companies and currently there are no established global standards of accountability and consistency for public reporting – ie some companies may not in fact be reporting the percentage of LGBTQ+ employees across their entire workforce but rather these numbers may reflect only some geographies or business units. This makes benchmarking LGTBQ+ Workforce data approximate.
EUROUT Sponsors receiving Global Recognition as LGBTQ+ Inclusive Employers
Windo tracks 15 notable LGBTQ+ Awards, Indices, and Recognition which aligns well with EUROUT's celebration of unity, growth, and creating a brighter, more inclusive future for all.
In the below Insight we celebrate 8 EUROUT Sponsors that have been recognised as LGBTQ+ Inclusive employers around the globe.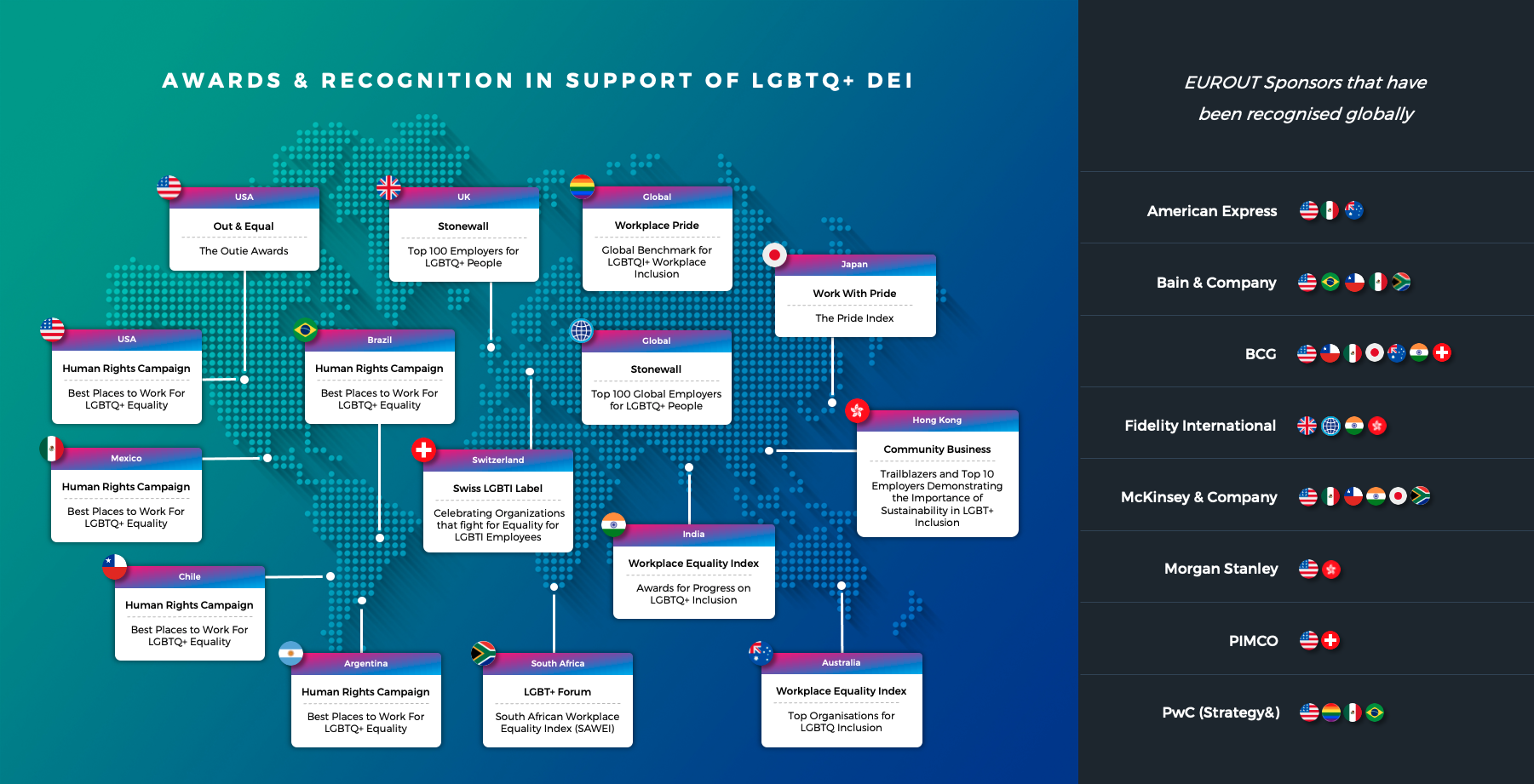 EUROUT Sponsors that have Spoken out Publicly in Support of LGBTQ+ Rights
According to a survey by Deloitte of 5,474 LGBTQ+ people across 13 countries published in June 2023, more than half of respondents cite a company's external commitment to LGBTQ+ inclusion as a deciding factor whether to apply.
Publicly supporting LGBTQ+ equality is one way companies can demonstrate that commitment and featured below are 11 notable Public Statements on this topic spanning Brazil, USA, UK, Poland, Hong Kong, Taiwan, Japan, Australia and globally (United Nations).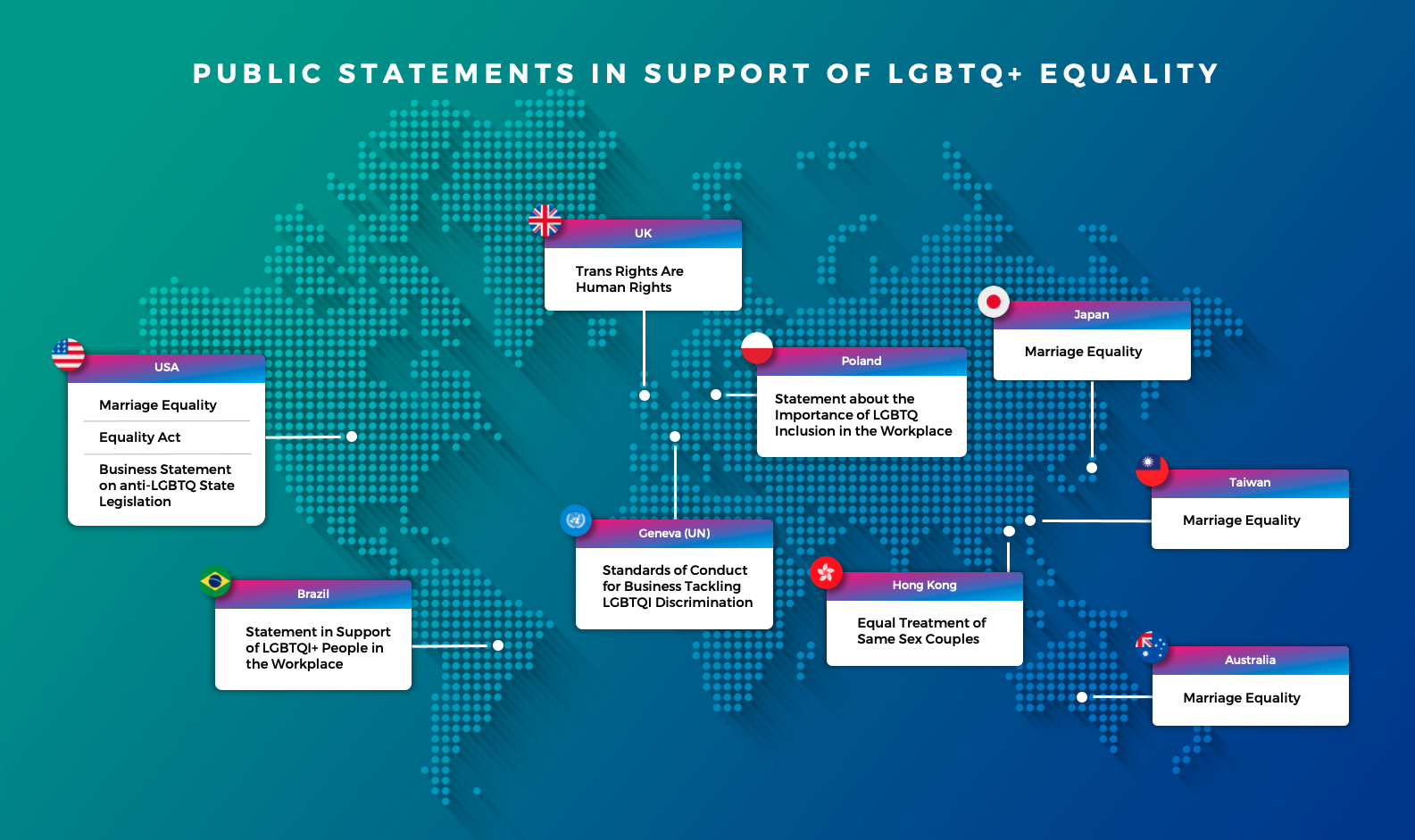 61% of Americans want to see CEOs taking a stand on LGBTQ+ Rights according to JUST Capital's 2022 Americans' Views on Business Survey.⁷
EUROUT Sponsors Taking A Public Stand on LGBTQ+ Equality
The below EUROUT Sponsors have repeatedly taken a stand on LGBTQ+ equality around the globe.
N.B The American Flag means that organization has signed at least 1 of the 3 USA Public Statements.
Subscribe to Insights
Would you like to receive Windō's and EUROUT's latest Insights and Reports in your inbox?
Leave your details below…