Windo's vision is to make it simple to understand a company's positive impact on the planet and its people, with a mission to connect employers with talent that share their values.
Out & Equal is the premier nonprofit organization working exclusively on LGBTQ+ workplace equity, inclusion, and belonging. Through their worldwide programs, Fortune 500 partnerships, and transformative convenings, such as their annual Workplace Summit, they help LGBTQ+ people thrive and support organizations in creating cultures of belonging for all.
Together, we celebrate organizations that are leading the way to inspire and encourage others to follow their lead.
Why Transparency on LGBTQ+ DEIB* Efforts Matters
*Diversity, Equity, Inclusion, and Belonging
According to a survey by Deloitte of 5,474 LGBTQ+ people across 13 countries published in June 2023, more than half of respondents cite a company's external commitment to LGBTQ+ inclusion as a deciding factor whether to apply.
That same survey revealed that more than half of the respondents cite the presence of leaders who are LGBTQ+ and 'out' as a deciding factor whether to apply for a job.¹
A study by Bain & Company of 4,000 US consumers published in June 2023 found that 30% of Generation Z would reject a brand because of the company's inability to share its DEI track record.²

One in two Gen Z office workers look at Sustainability Reports when researching a job according to a study published by KPMG in January 2023.³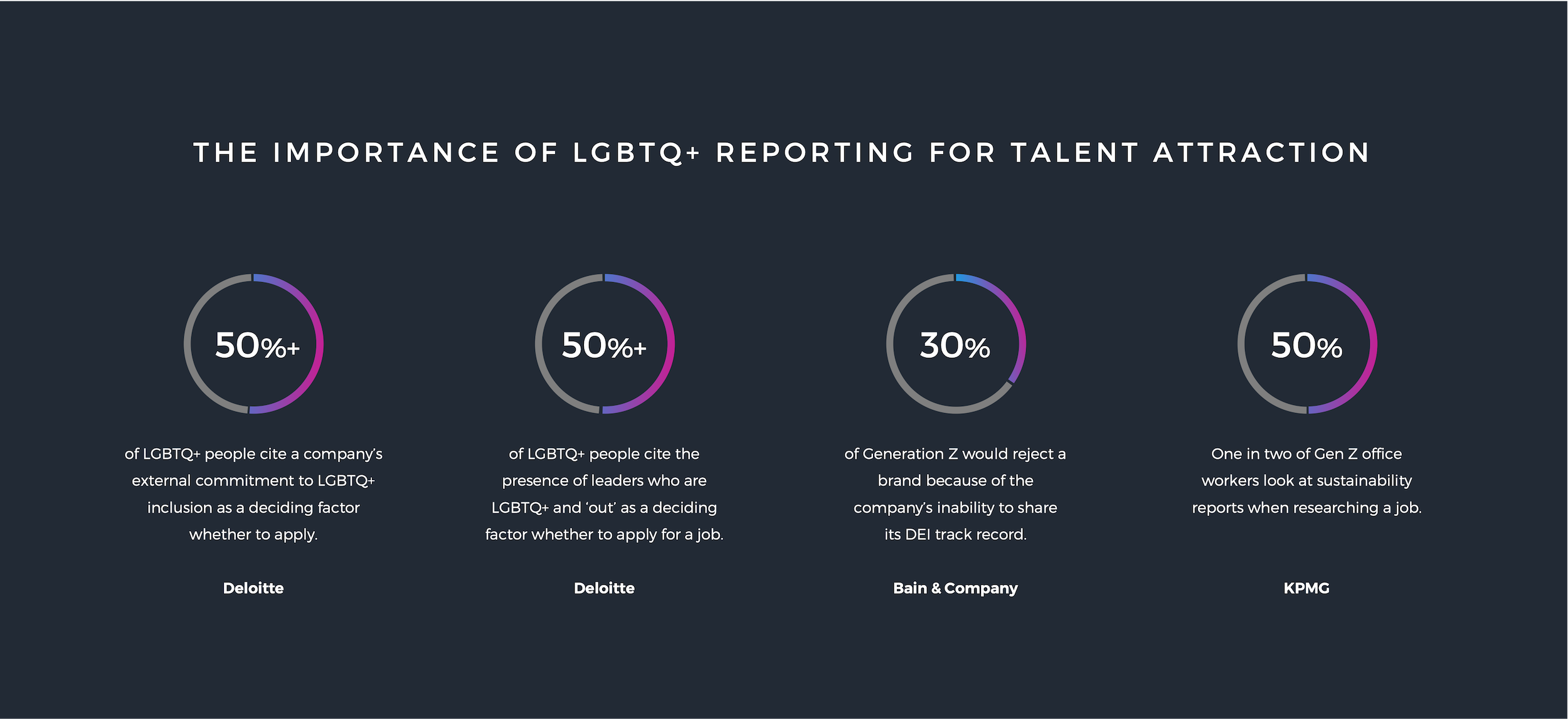 Gen Z are an important generation when it comes to reporting on LGBTQ+ efforts. By 2030 they will make up a third of the global workforce and are the most diverse generation in history.
21% of adult Gen Z Americans identify as LGBTQ+ according to a 2022 Gallup Survey⁴. Combine this with the statistic that over half of all Gen Z will review a company's Corporate Social Responsibility when researching a job⁵ and the importance of clearly communicating your LGBTQ+ efforts to one fifth of the population becomes clear. This can ultimately help organizations to attract and retain talent whose values are aligned with their own.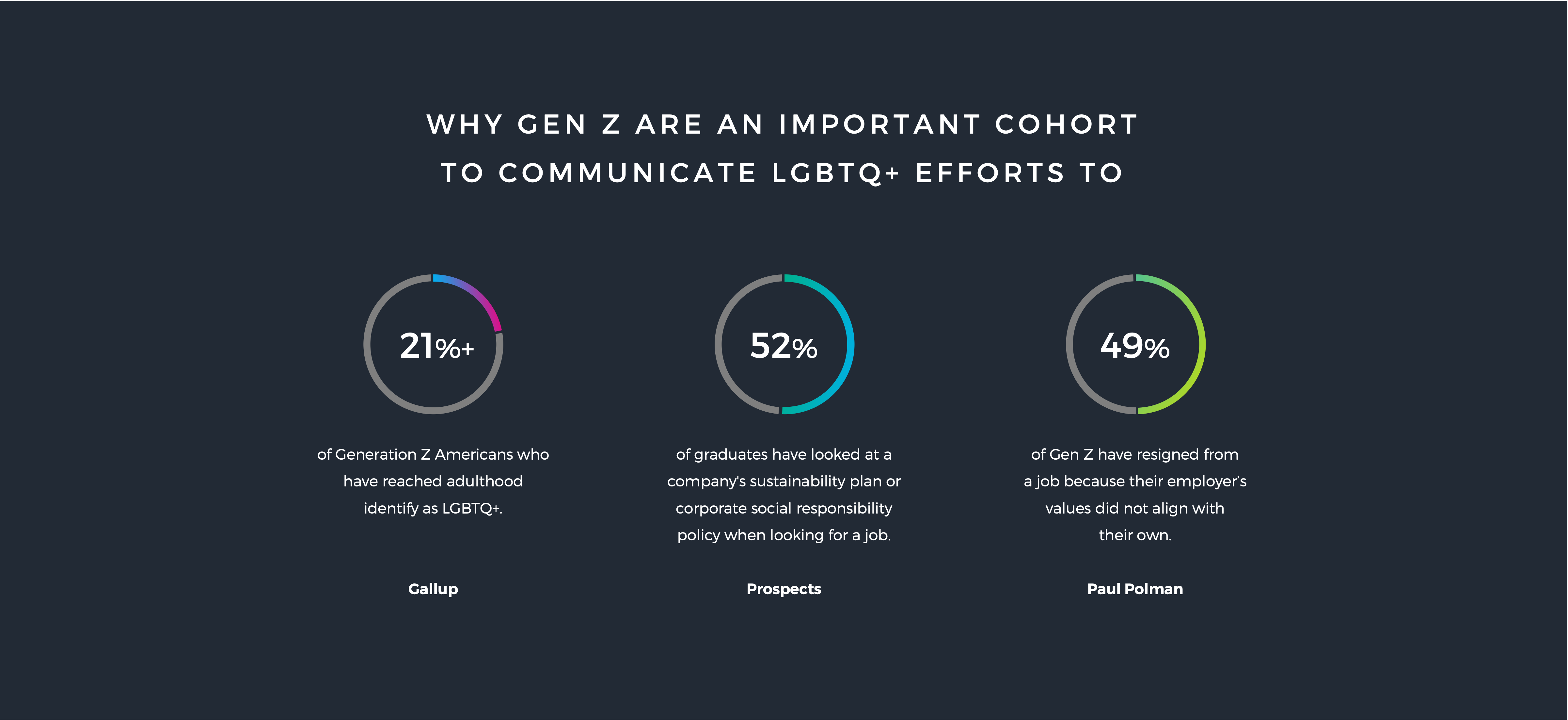 Partner Insights & Commitments to LGBTQ+ Equality
Out & Equal supports over 250 Partners on their mission of LGBTQ+ equality and belonging within their organizations through tailored packages. All Partners are to be celebrated for taking these steps and within this report we share a few insights from leading businesses that also have a Diversity, Equality & Inclusion profile on Windo.
Windo holds the sustainability data of companies in the Fortune 100, FTSE 250, and The Times Top 100 Graduate Employers. Of these there are 65 companies that share their LGBTQ+ Workforce Representation data.⁶
As follows are 8 Partners of Out & Equal that are amongst the pioneers in LGBTQ+ reporting, each sharing the percentage of their workforce that identify as LGBTQ+.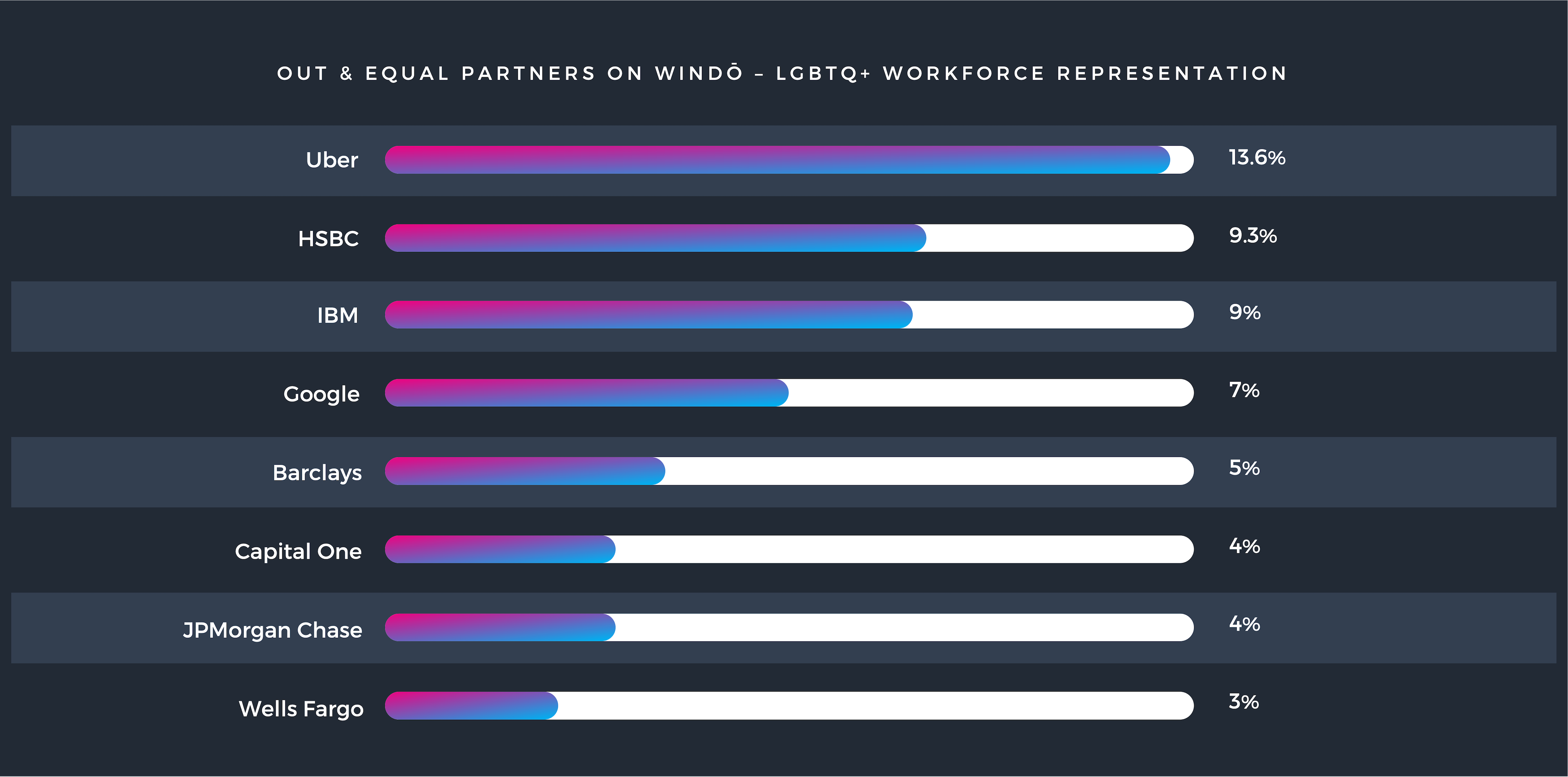 Note: Representation data is based on Self-ID programs. Companies phrase questions for Sexual Orientation and Gender Identity differently. Employee participation rates in Self-ID programs also differ among companies and currently there are no established global standards of accountability and consistency for public reporting – ie some companies may not in fact be reporting the percentage of LGBTQ+ employees across their entire workforce but rather these numbers may reflect only some geographies or business units. This makes benchmarking LGTBQ+ Workforce data approximate.
LGBTQ+ Global Recognition
Windo tracks 13 notable LGBTQ+ Awards, Indices, and Recognition which aligns well with Out & Equal's vision of global workplaces where all people are equal, belong, and thrive.
In the below Insight we celebrate 5 Out & Equal Partners that have been recognised as LGBTQ+ Inclusive employers around the globe.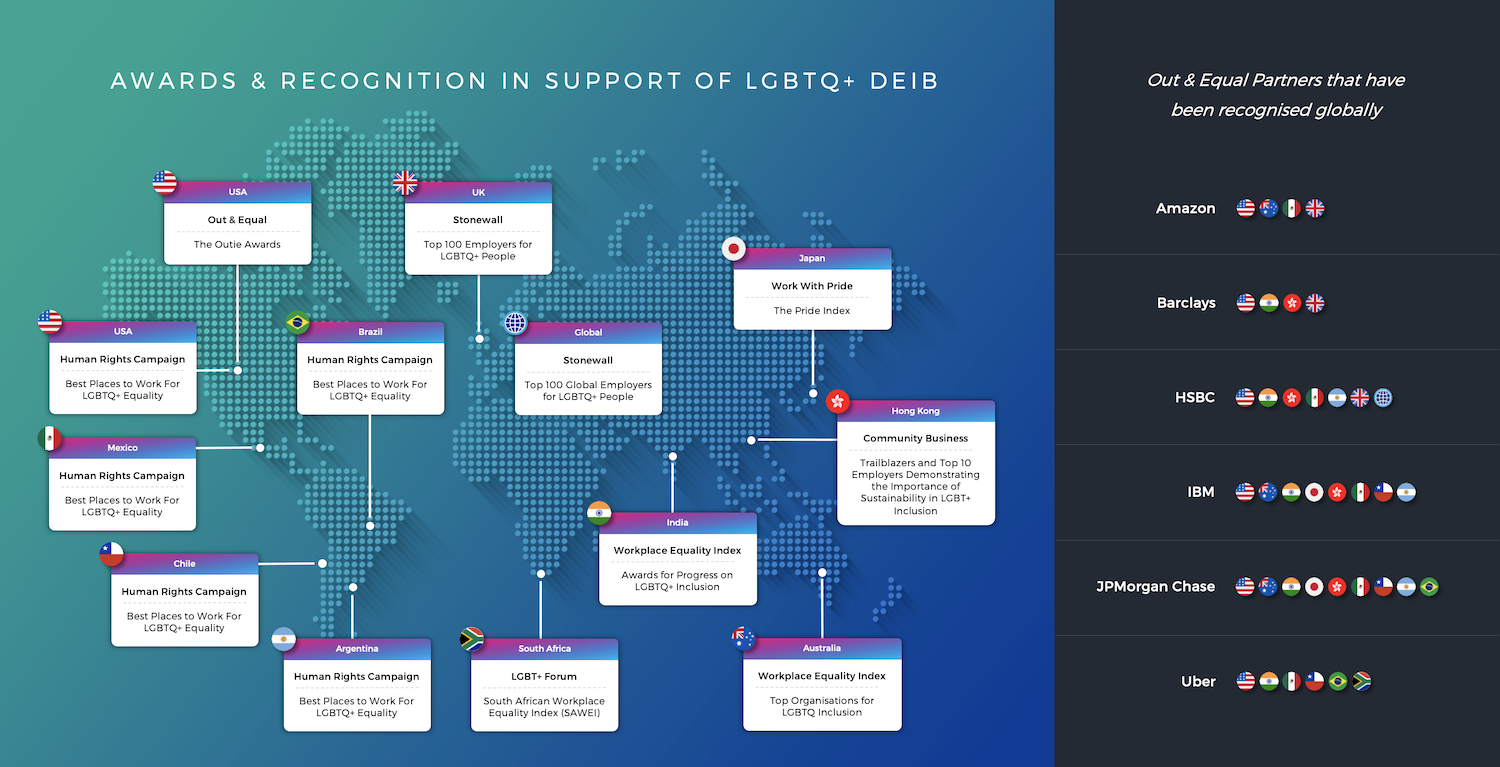 Public Statements in Support of LGBTQ+ Equality
As highlighted at the start of this report, more than half of candidates that identify as LGBTQ+ look for a company's external commitment to LGBTQ+. Publicly supporting LGBTQ+ equality is one way companies can demonstrate that commitment.
There are 10 notable Public Statements on this topic spanning Brazil, USA, UK, Hong Kong, Taiwan, Japan, Australia and globally (United Nations).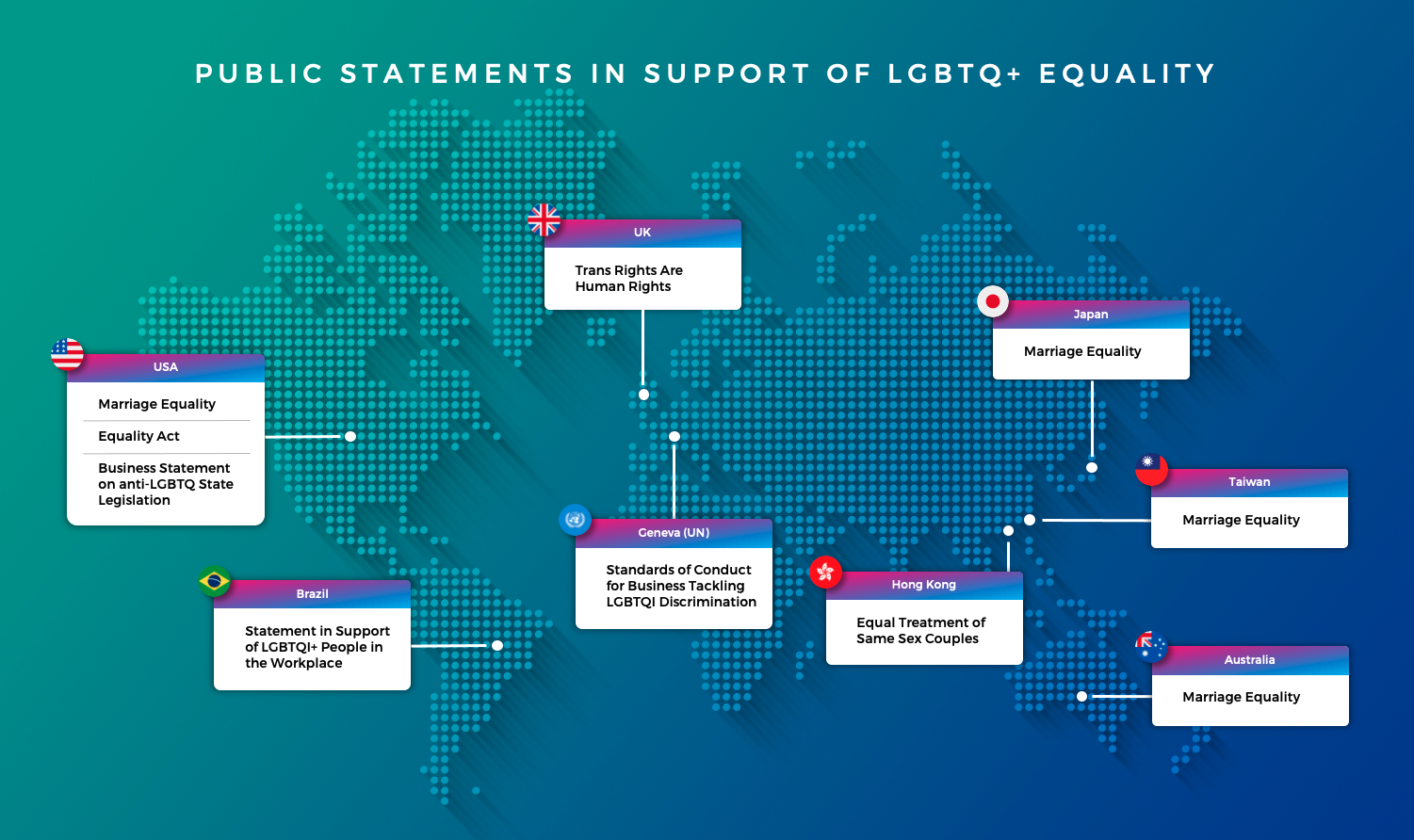 61% of Americans want to see CEOs taking a stand on LGBTQ+ Rights according to JUST Capital's 2022 Americans' Views on Business Survey.⁷
LGBTQ+ Reporting Trends & Best Practices
A majority of the Fortune 100 and FTSE 100 publicly report on Gender and Ethnic Minority Representation and to a lesser degree, targets. When it comes to reporting on workforce LGBTQ+, Disability, Veterans, and Socio-Economic Representation there are fewer but a growing number of businesses that are leading the way. Through the data held on Windo we're able to identify trends and insights in DEIB reporting and are seeing an increasing number of businesses reporting across all diverse groups on Overall Representation, Leadership, Board Diversity, Targets, and Pay Gap data.
Next we highlight three industries that are leading the way in LGBTQ+ reporting: Law, Consulting, and Banking.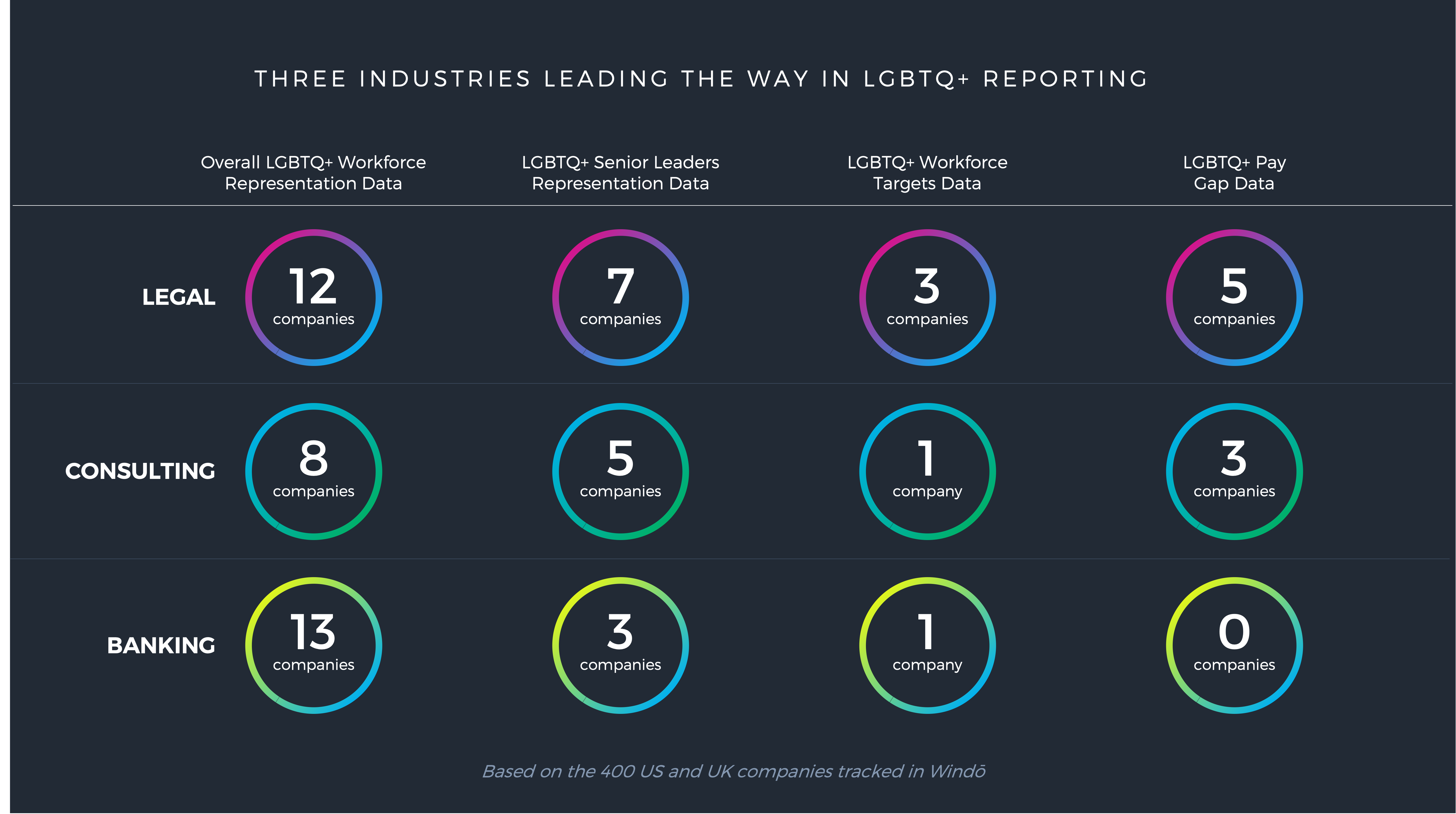 Corporate LGBTQ+ Thought Leadership Videos
Deloitte
Coming out as trans and a person of color.
JPMorgan Chase
What it means to be bold.
HSBC
What does it mean to be an LGBTQ+ Ally?
Windo
The importance of sharing LGBTQ+ data.
Corporate LGBTQ+ Thought Leadership
Enhance and Celebrate Your LGBTQ+ Efforts
Enhance with Out & Equal
Out & Equal offers a multi-dimensional take on partnerships intended to drive the most value for our Partners and for the mission of LGBTQ+ equality and belonging.  Their year-round, holistic approach is centered on meeting the needs and priorities of your organization, creating a benefits package that best helps you achieve your goals.
Celebrate with Windo
Subscribing to Windo allows organizations to celebrate and communicate their sustainability progress, achievements and plans in an accessible and user-friendly format to audiences and talent that can make your business thrive.

Subscribe to Insights
Would you like to receive Windō's and Out & Equal's latest Insights and Reports in your inbox?
Leave your details below…